Dirty Bird Dumpsters
By placing a high value on punctual delivery, amiable customer service, and a variety of sizing options that meet the requirements of residential or commercial projects, large or small, we at Dirty Bird Dumpsters consistently surpass the expectations of our clients. Whether you're looking for a long-term rental to support a business demolition project or a one-time drop-off to remove unwanted furniture or appliances, we have heavy-duty options that meet a wide range of waste disposal needs. Call our staff at (888) 865-3867 to get in contact with us right away, or use our handy online booking form to reserve a roll-off container!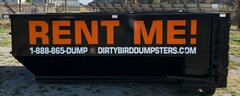 15 Yard Dumpster 7 Day Rental
What's included:
Dimensions: 12' L x 8' W x 4.5' H
Rental Time: Up to 7 Days
Included Tonnage: 2 included
Add:
Additional Days: $20/day
Extra Weight: $85/ton
15 Yard Dumpster 7 Day Rental
Home Remodel Debris
Construction Debris
Garage Clean-Outs
Yard Debris (sticks, shrubs, limbs)
Shingles
Household Clean-Out
Foreclosures
Logs & Stumps
Paint, Chemicals, etc.
Gas/Diesel/Kerosene
Pressurized Tanks
Anti-Freeze
Asbestos
Railroad Ties
Tires
Concrete
How To Rent Our Dumpsters In 4 Easy Steps
1. Schedule Your Dumpster Rental
Give us a call today and we'll find the right sized dumpster rental for your project at an affordable price and schedule your rental.
2. Prepare for Dumpster Delivery
Our dumpster rental professionals will deliver your dumpster at a time that works for your project. Please ensure the drop-off area is clear.
3. Fill Up Your Dumpster
Fill up your dumpster with the acceptable waste. Not sure if you can put a particular item in your roll-off container? Give us a call to find out what's accepted in your area.
4. Schedule Your Pickup
When you're done using your dumpster, give us a quick call or text, and we will come and pick up the dumpster. We also peform a thorough clean-up of your space.
Why Dirty Bird Dumpsters?
Professional And
Experienced Team
Flexible, Timely
Pickup and Delivery
Locally Owned
And Operated
Dumpsters for
Every Project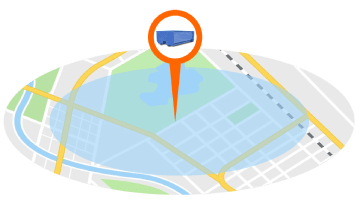 Dirty Bird Dumpsters Service Area
We're delighted to provide delivery service to Knoxville, TN, and nearby areas, guaranteeing that our beautiful cities maintain their waste-free status and attractive appearance. With our kind and accommodating team, we promise that you will have a good time. Please don't hesitate to contact us at (888) 865-3867 if you have any questions about our flexible scheduling choices or delivery.
View Service Area
What Our Customers Are Saying
Sal Y.
Very satisfied with experience and price. Delivered on time and placed where I requested.
Roy H.
Dumpster delivery was prompt and they have great prices. I have used them on two of my jobs and plan to use them again in the future. Highly recommended.
Sam K.
Best customer service I've had in a long time, from first call to delivery the process couldn't have went any better definitely recommend and will use again.